Mikoyan design bureau designed this fighter aircraft as Project 1.44/1.42 (also known as the MiG-MFI and NATO reporting name "Flatpack"). It was envisaged as the next generation Multifunctional Frontline Fighter as an answer to the American F-22 Raptor Stealth fighter . Work started way back in the mid 1980s but due to financial problems first flight was probably not earlier than mid nineties. The prototype was first revealed in the Western magazines January 1999. It showed large canards and an internal weapons bay to have some stealth characteristics. It is intended to have high super cruise capabilities with two Lyulka Al-41 engines. It is unknown if in the prototype actually a radar was fitted.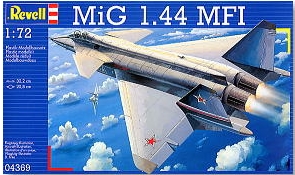 Revell Germany issued this kit no. 04369 in 2005 in 1/72 scale and it has about 80 parts. It is a re-box of the Zvezda kit.
The parts and detailing are simple but OK for this scale. The plane is a rather clean design and so is this kit, it is also pretty bigger than I expected.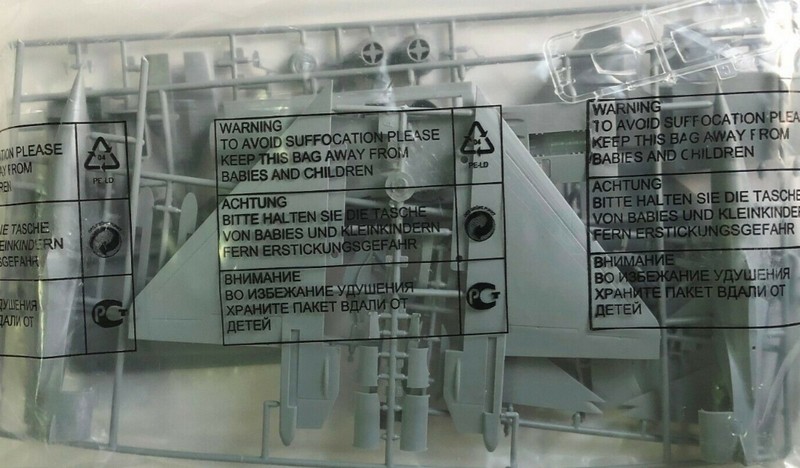 Parts lay out is seen here...


Assembly was straight forward. Starting with the cockpit, a K-36 seat is probably the one for which parts are provided.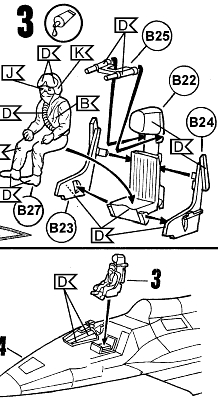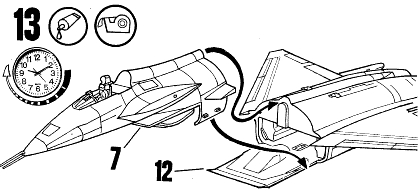 The model has two vertical forward fuselage split and a rear horizontal wing-fuselage split. There is NO actual intake ducting, I simple added some card but not a lot can be seen through the intake. Engine compressors faces are provided and a set of good tailpipes.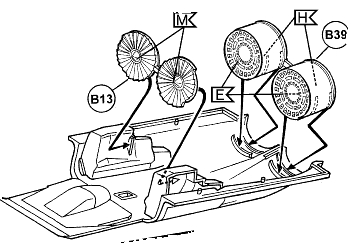 The fit was rather good with minimal filler needed. No weapon bay detail is in the kit but this is OK as a lot is not known of the actual details.
The model got a basic grey primer coat first.
The next painting instructions are in Revell mixed colour recipes. I settled using these colours:
Upper colour light grey Gunze Sangyo 308 acrylic being approx Fed.Std 36375 ;
Lower colours blue/grey Tamiya XF23 acrylic.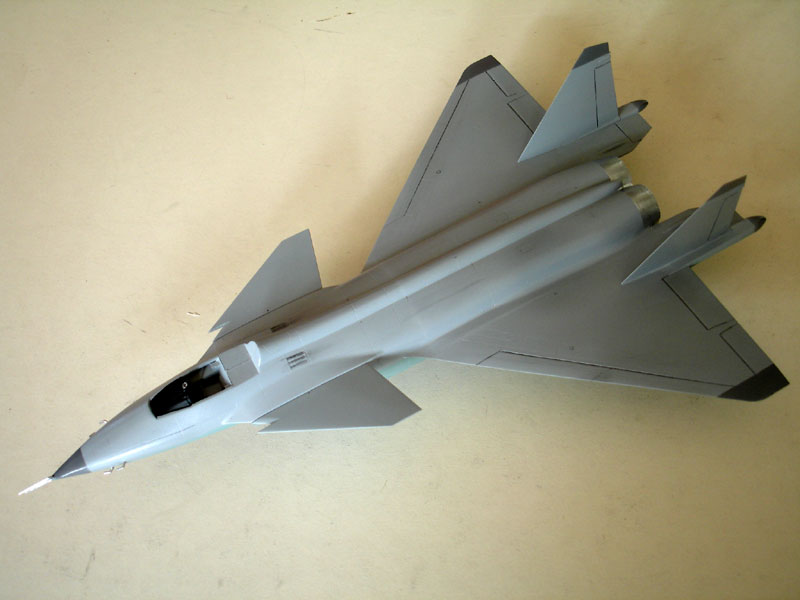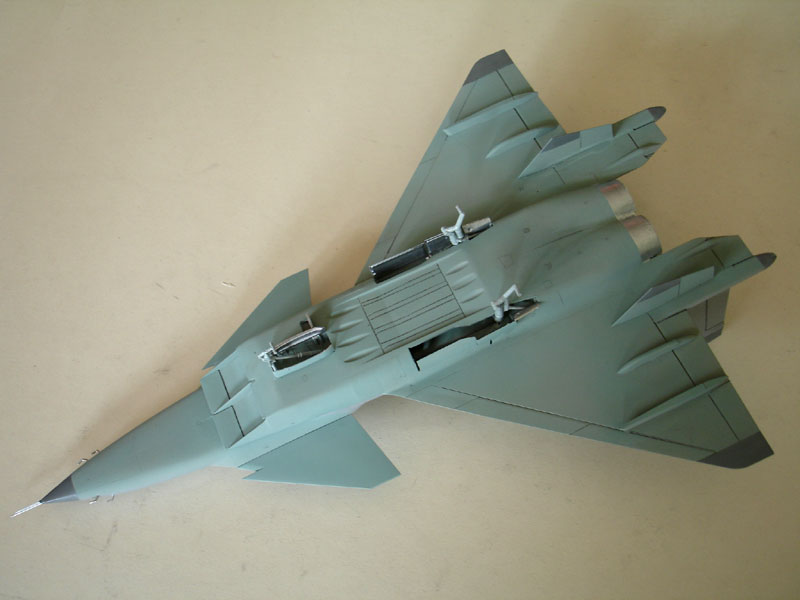 The insides of the bays and doors were painted metal aluminium, although I am not sure if this is correct. Two simple decal options are provided. The model was given a coat of Johnson Future gloss before adding the decals.
The model finish was kept rather clean as this is a new prototype aircraft using kit decals were used as per instructions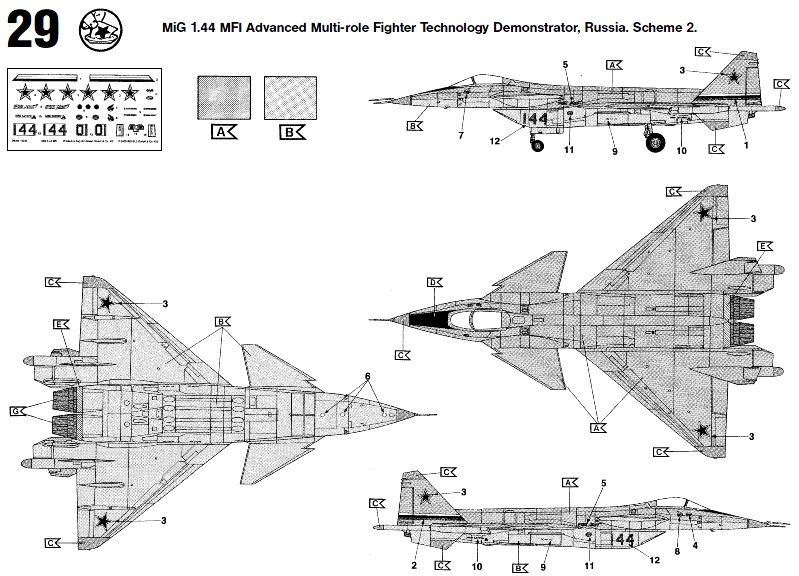 Only minor stains were added in selected areas. Some grey panels were added such as on nose and wing tips.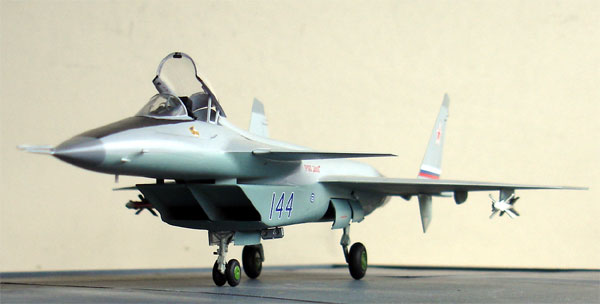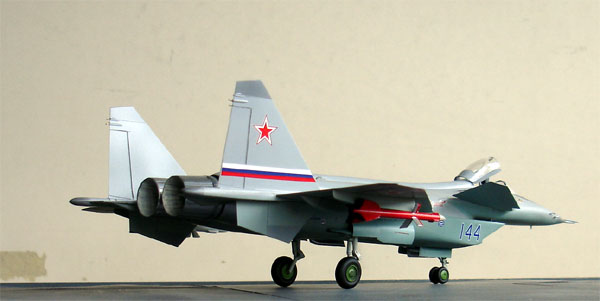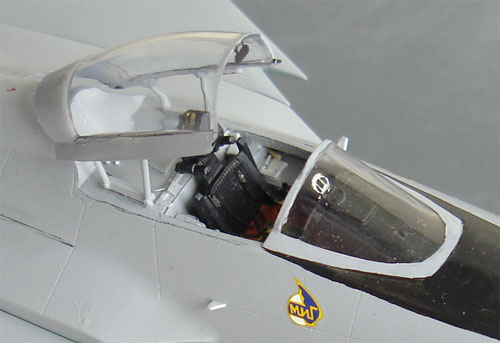 Details of the cockpit, with some added details like a HUD display and a small canopy mirror.



Also added as a missile in a high visibility colour scheme. The missiles came from the spares box although weapons are preferably carried in the internal bay.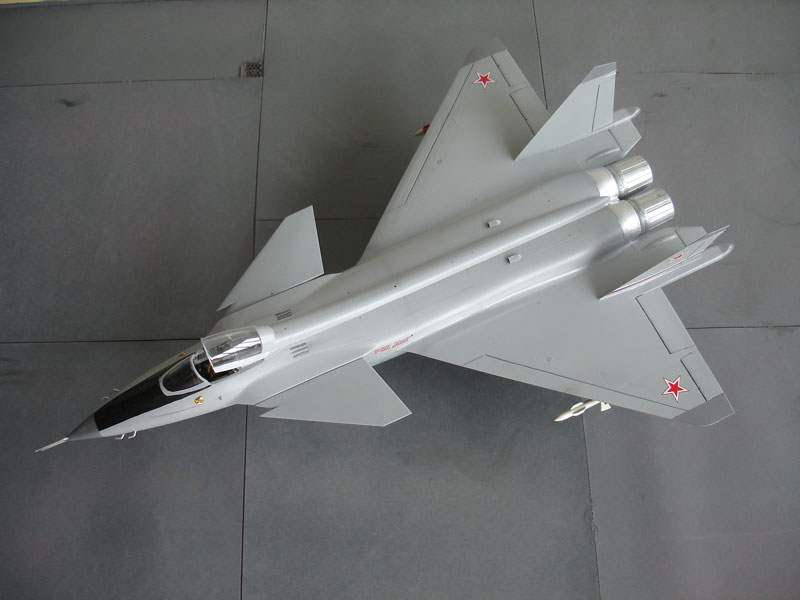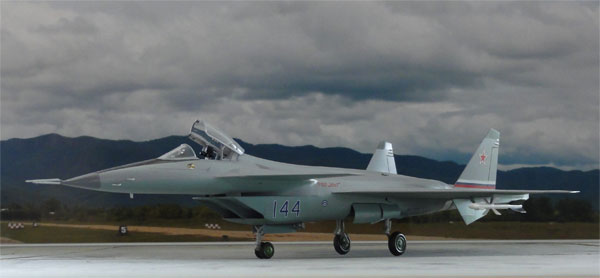 A nice addition in the Soviet model collection.