An "unknown" company from the new Russian republic has issued this nice kit in 1/72. It was brought to me be a friend from Russia in 1993 and costed only 25 dollarcents in Moskou! Later I concluded it was a kit from UNDA.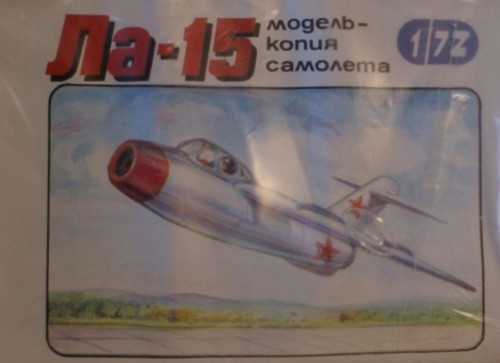 The kit has fine details, but on the other hand needs removal of lots of flash. When neatly build, it results a a nice small model, just about 8 cm long.
A lot of small parts are provided with even a detailed cockpit. The only drawback of this kit are the unclear canopy that needs polishing and the useless decals. When replaced it is a fine kit. The canopy was set open.
The dominant wing fences were replaced with thin card.
The model was filled, sanded and than polished as the metal coat does not tolerate any scratches.
Sprayed in light grey cover coat first, the red areas were painted, masked and finally the rest of the surfaces sprayed with metal enamel coat of Humbrol.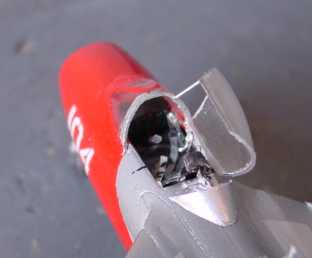 Finished as Red Demonstrator at Tushino Air show , 1949, as shown in the kit's instructions.
The model tends to be a tail sitter, and there is not a lot of space to fit in led.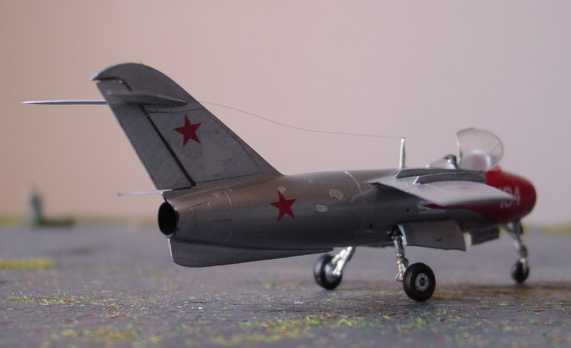 Also, some spare decals were airbrushed on decal in metal in a different metal hue, cut out in some panels shapes and added as decal. This prevents masking on the metal surfaces, yet puts some more live into your model.
A nice LA-15 is in the model collection.