During the Cold War, various Western intelligence services wanted to acquire Soviet aircraft. Aircraft were developed in secret after the Second World War, especially jets, and were unknown.


The MiG-15 used a Klimov RD-5 engine, based on a "bought and copied" English Rolls Royce Nene jet engine that was allowed by the British Government September 1946.


During the Korea War that erupted June 25,1950 it turned out that the Soviet Mikoyan Gurevich MiG-15 could out manoeuvre American F-86 Sabres. Discussions about this were published in the U.S. magazine "Aviation Week" :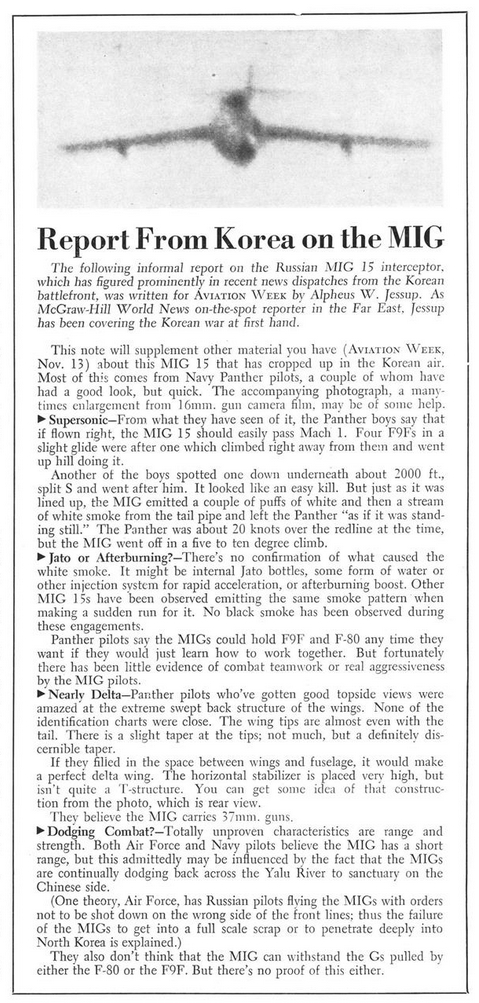 Aviation Week, December 1950

and....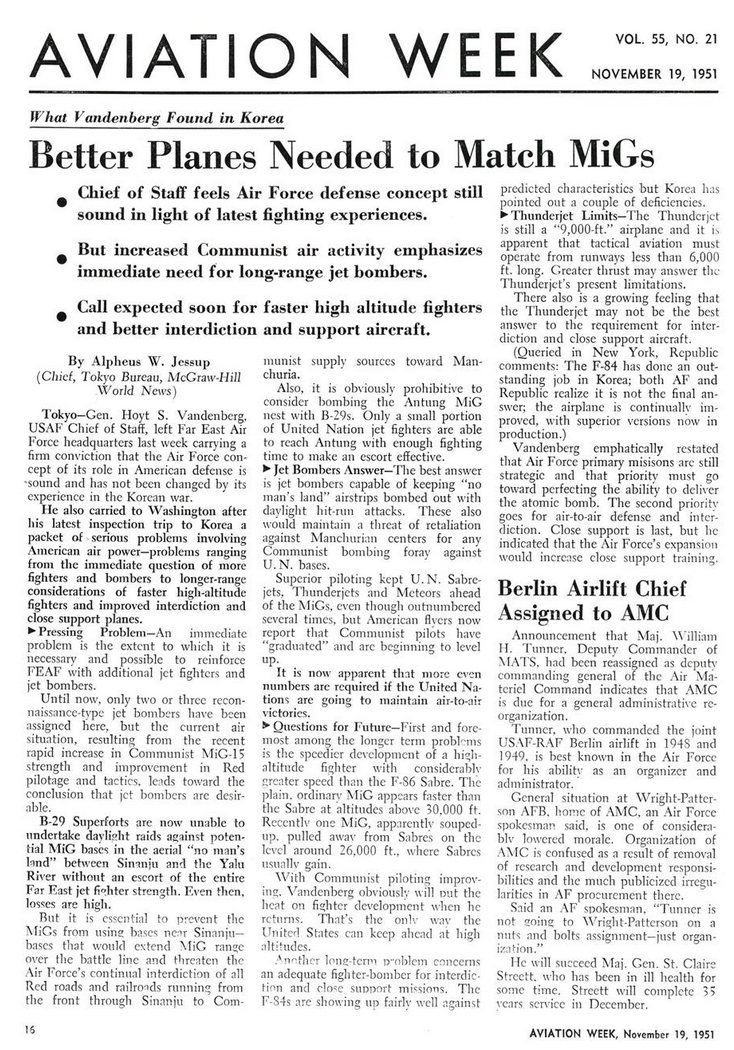 Pilots of these aircraft were encouraged to defect to the "other side". Awards were promised and payed after defection in cash or pure gold. Even paper pamphlets were dropped with these promises above "enemy land" with balloons such as over China to inform people and pilots about this.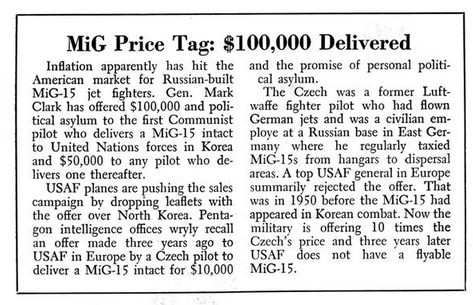 Aviation Week, May 1953

This MiG-15 had a mid grey cockpit interior. The seat armour plate is metallic and the headrest, seat cushions leather black. Seat straps olive and/or medium brown. The instrument panel was mainly black or very dark grey with black boxes on the sides. The areas below the canopy are also mid grey and at the windscreen anti glare black.

Aircraft flow in those days were MiG-15, MiG-17 and types like IL-28 bomber and Yakovlev trainers (which were less interesting).

Not only defectors went from Communist East to West. There were also pilots who defected to Communist side (so vice versa) like from Taiwan to China, to Cuba, to North Korea and North Vietnam and so on with various Western aircraft.

The U.S. Aviation Week weekly magazine often reported about defectors when the journalists found out. Some articles of these old days are seen here as well.
( *courtesy Aviation Week archives ).





A list of some

MiG-15

Fagots or Chinese J-2 flown to the West...



In 1951 a North Korean MiG-15 crashed in the sea and was salvaged by the West. This was the first MiG jet though a wreck to be investigated.




On March 5, 1953, the Polish pilot Jarecki flew his MiG15bis from the Polish base in Słupsk to the Danish Bornholm, an island in the Baltic sea. he managed to escape and in his brief 15 minute flight at low level he could not be stopped by Polish fighters. It was a complete surpise and he land at the small Rønne airfield. In great secrecy US specialist were flown to Bornholm. The MiG-15bis coded "346" was inspected and several days later returned (without pilot) to Poland by ship. This was first inspection of an intact MiG-15 by the West.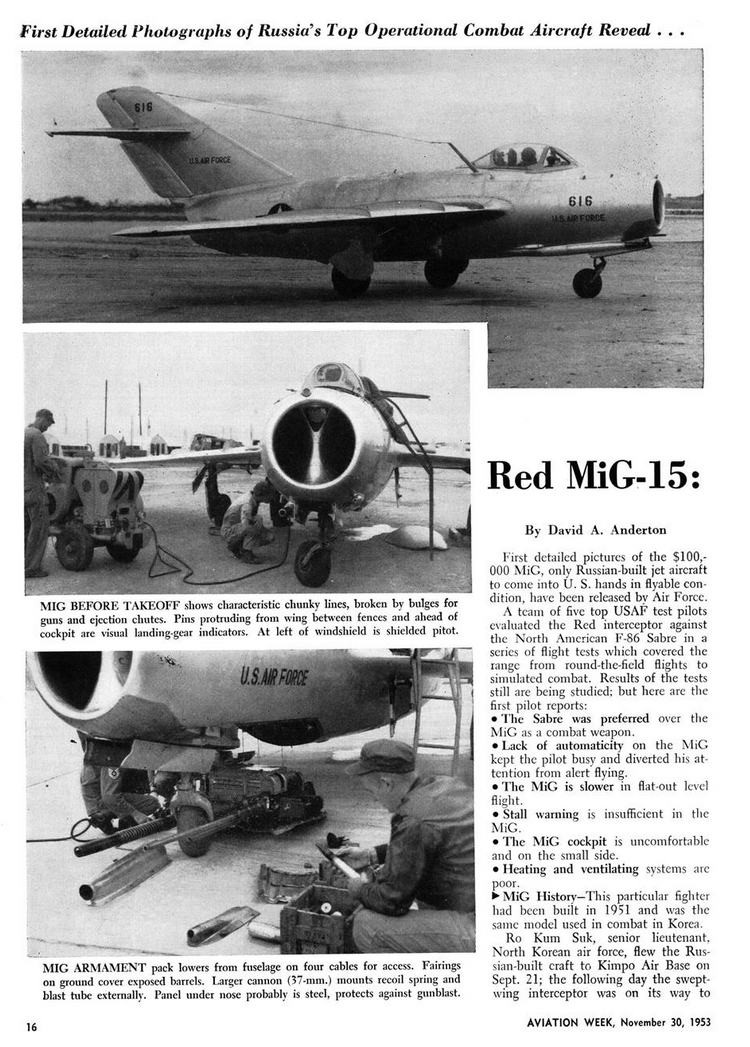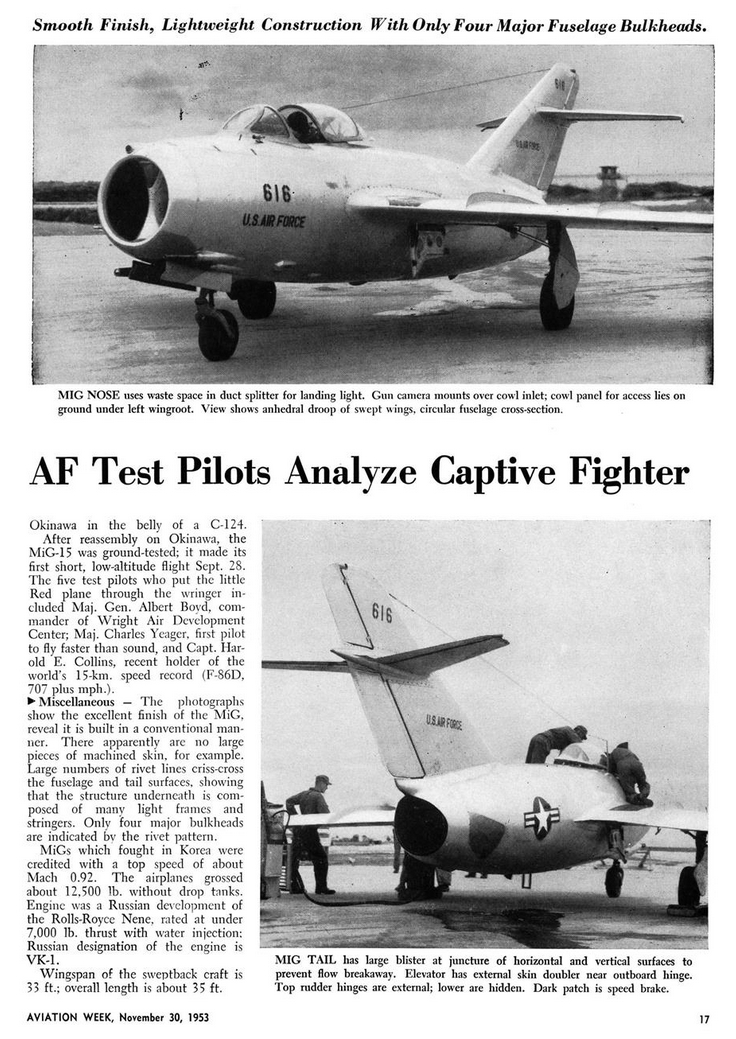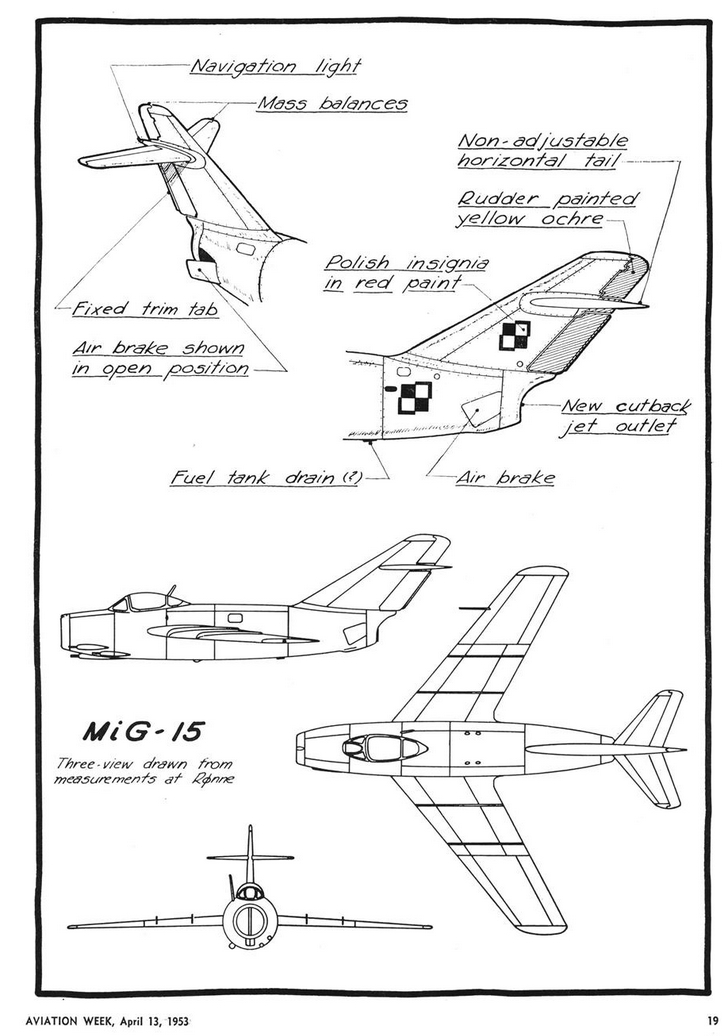 A few months later, another Polish pilot defected by flying to Bornholm. Probably he was inspired by his collegue so on May 20, 1953, Lt. Jaźwiński also based in Słupsk flew his MiG-15bis to Rønne airfield on Bornholm.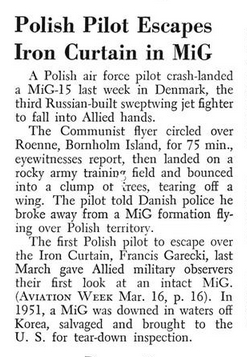 Aviation Week, May 1953

with a special feature in June 1953: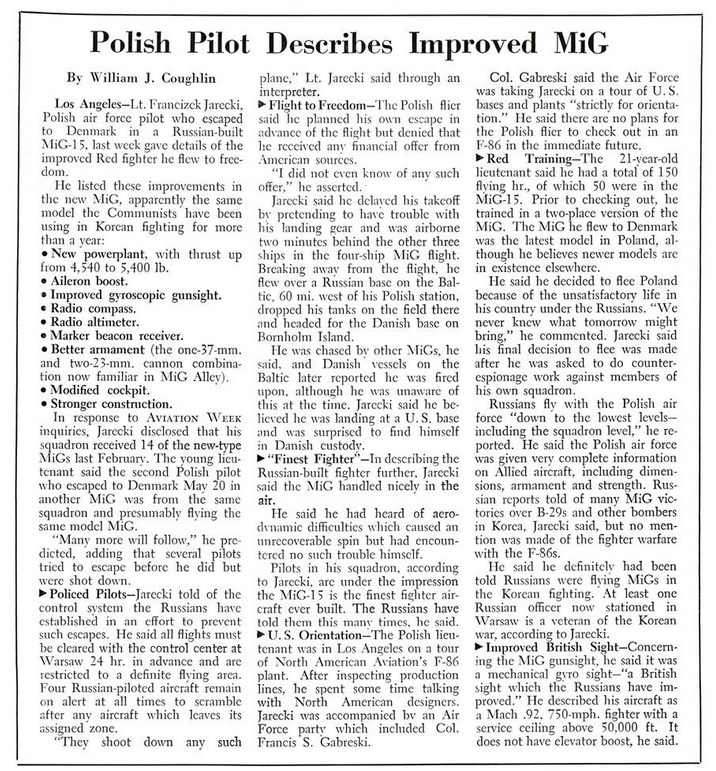 Aviation Week, June 1953




A few days earlier in the Korea area on September 21, 1953, pilot No Kum-Sok, 21 years old defected with his North Korean air force MiG-15 to Kimpo, South Korea. He got awarded with $100,000. The MiG went later to the USA to be tested in secrecy..

Many years later, the MiG-15 went on display at the USAF Museum, Dayton, Ohio.




A few years later on September 25, 1956 Bornholm attracted another Polish pilot. as Lt. Gościniak from Zegrze Pomorskie defected with MiG-15bis , coded 1327, and landed without using his landing gear at Rønne on Bornholm.




On January 12, 1960, the Chinese pilot Yang Decai, flew a Mikoyan-Gurevich MiG-15 with serial number 6501 from Luqiao in China to Yilan in Taiwan. However, Yang was killed when his aircraft crashed on landing.

On March 3, 1962 the Chinese PLANAF pilot Liu Chengsi defected and flew his MiG-15 from Luqiao air base in Zhejiang to Taoyuan County, Taiwan (now Taoyuan City). Liu was rewarded 1,000 taels (approximately 50 kg) of gold.




In December 1970, the North Korean MiG-15 pilot Major Pak Sun-kok, defected to Gangwon Province, South Korea with a MiG-15. Obviously the aircraft was by now well known in the West.




In later years now interesting types to be "acquired and examined" by Western intelligence services were MiG-19, MiG-21, MiG-23 with some years later the MiG-25. On September 6, 1976, Soviet Lieutenant Viktor Belenko defected and flew to Hakodate in Japan and with his highly secret MiG-25P. The Foxbat was thoroughly examined and after a few days retuned to the USSR.