The model was now finally completed as a F-14A Tomcat of VF-84 Jolly Rogers.

The steps on the left cockpit side and ladder were opened and the cockpit canopy detailed with the locking mechanism.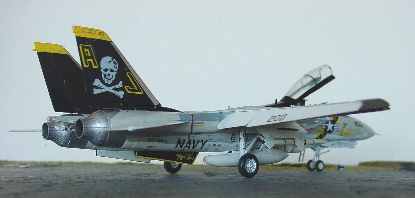 The decals as supplied with the kit went on fine; I always apply water based "paper" glue to the surface before sliding in the soaked decal. Than press on the decal with a brush and cloth and it prevents air bubbles being trapped.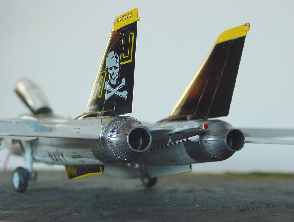 .....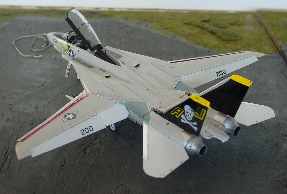 The kits decals nosteps were replaced with spare ones from the decals-box with the words "no steps" separated. I also wanted to have the larger stars and bars VF-84 "older style" scheme on this model, so replaced the smaller ones of the kit. In order to prevent the dark black/yellow striping near the cockpit to shine through the white area of the stars, I applied a small "withe" decal underneath. Carefully cut and apply the separate decals around the opened steps and ladder area..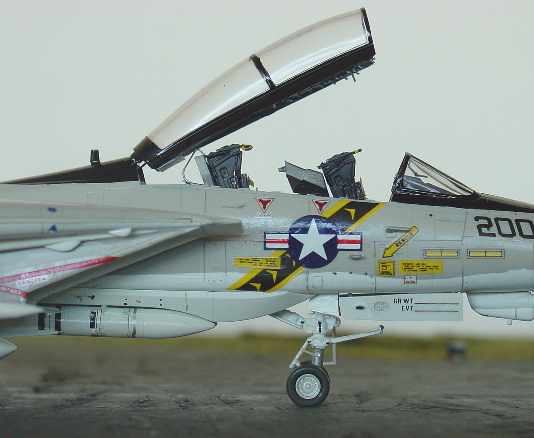 The leading edges of the wings, stabilizer and vertical tails were given a strip of aluminum coloured Bare metal foil. It gives nice results and is easily applied. Use a sharp new blade to cut the foil and apply with its self attaching backing glue.
The various "stores" were also decal led, with excellent detail striping and stencilling being provided in the kit for the Sparrows, Sidewinder and Phoenix missiles. Four Phoenixes, two Sparrows, a single Sidewinder and a fuel tank were attached to the model.
Total recalling time for this kit was about 6 hours, so there is a lot to be done, but worth every effort. Turn on a good soccer (american football for our guys from the U.S.A ) match on your TV set and decal your model at the same time. During soaking a particular decal, you can watch the game....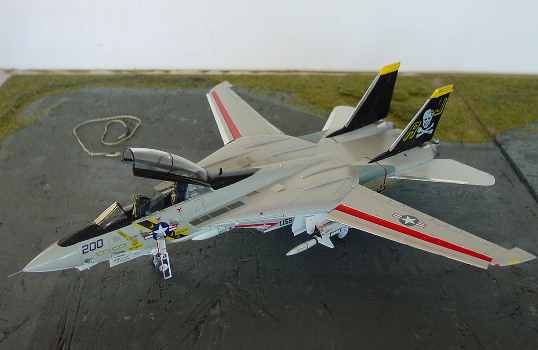 After a day of drying of the applied decals, the model was give a protective coat of Johnson Future clear varnish with a wide brush.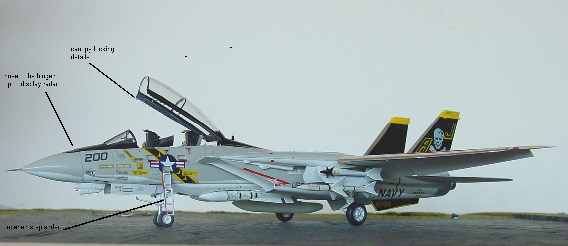 The radar cone was set open to display the radar. It hinges upwards.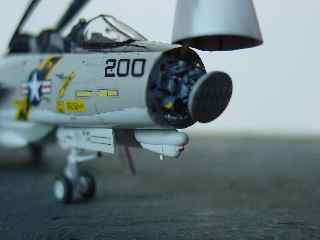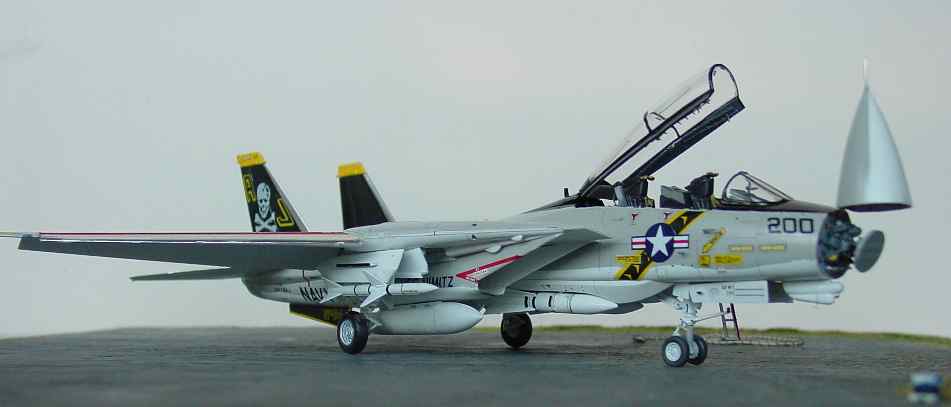 And there the Tomcat is, nice and shining with a spectacular scheme!
Back to models page....