In my youth, I saw many F-104 Starfighters flying at air shows, both from the Dutch Air Force as from many other NATO countries in the seventies. Many plastic model kits have been issued of the F-104, in many many scales. This modelling report will focus on 1/72 scale F-104 models (for 1/32 scale models, look here...)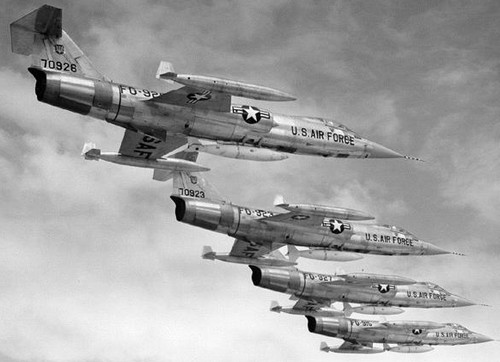 The Lockheed F-104 Starfighter was high speed single-engine interceptor aircraft. It was called "the missile with a man in it". It could fly well over MACH 2 and had a M61 Vulcan Gatling gun.
The famous aircraft designer Kelly Johnson developed the F-104 which started in 1952 with the XF-104 first flight March 1954 but with the J65 engine. The Starfighters would later get the J79 engine with the YF-104A being the first flying February 1956. The F-104 had small very thin trapezoidal wings and was very fast with MACH 2 capability although not very manoeuvrable. Although the USAF used it, it saw most active service with other NATO countries.
Early Starfighters had a downward-firing Stanley C1 ejection seat because the aircraft had a T-tail. But this configuration quickly changed, with the Lockheed C-2 upward-firing seat that also could be used at lower flight levels. Many export Starfighters were later retro-fitted with newer Martin-Baker seats. The Royal Netherlands Air Force Starfighters retained the C-2 seat.
Basic armament included the 20 mm M61 Vulcan Gatling gun. Also, it could be armed with Sidewinders AIM-9 missiles. These could be carried on the wingtip stations, but also on later versions at fuselage pylons. Four underwing pylons could carry fueltanks and bombs. Range with only internal fuel was limited, so typical on the Starfighter the large wing tip fueltanks were often seen.
Various Starfighter versions were developed, see list below. Overall, more than 2,500 Starfighters were manufactured.
F-104A
Used by the USAF around 1958 and later Air National Guard. Some were provided to foreign countries.
F-104B
This was a two-seat, dual-control trainer version of F-104A with enlarged rudder but with no cannon. A ventral fin under the rear fuselage was introduced and that would be retained for all future versions.
F-104C
This was a fighter-bomber version with a better radar and weapon capability. It was introduced during 1958 and could be refuelled in-flight with a tank probe fitted. It briefly saw service during the Vietnam War being used by the USAF but was not very successful. It was also used later by the US Air National Guard.
F-104D
This was a dual-control trainer versions of the F-104C.
F-104F
Dual-control trainer based on F-104D, but without radar that was intended as interim trainers for the West German Air Force (Luftwaffe).
F-104G
An vastly improved version with stronger airframe structures, more fuel capability and improved radar and avionics. Capable of flying at higher weights with stronger undercarriage and thicker tyres and revised flaps for manoeuvrability. The vertical fin was enlarged at the trailing edge with a larger rudder as compared to older versions like the F-104C.
The F-104G was the most widely used version with over 1,000 aircraft build also by many foreign companies under Lockheed license, including the Dutch Fokker Aircraft company.
The F-104G typically looks like as seen in this profile and has thick wheels and bulged main wheel doors to accomodate the thicker wheels. The F-104G was extensively used by NATO air forces, like the Royal Netherlands AF (KLu). The Royal Netherlands Air Force Starfighters retained the Lockheed C2 ejection seats, but many other air forces later replaced their seats by a Martin-Baker zero-zero ejection seat.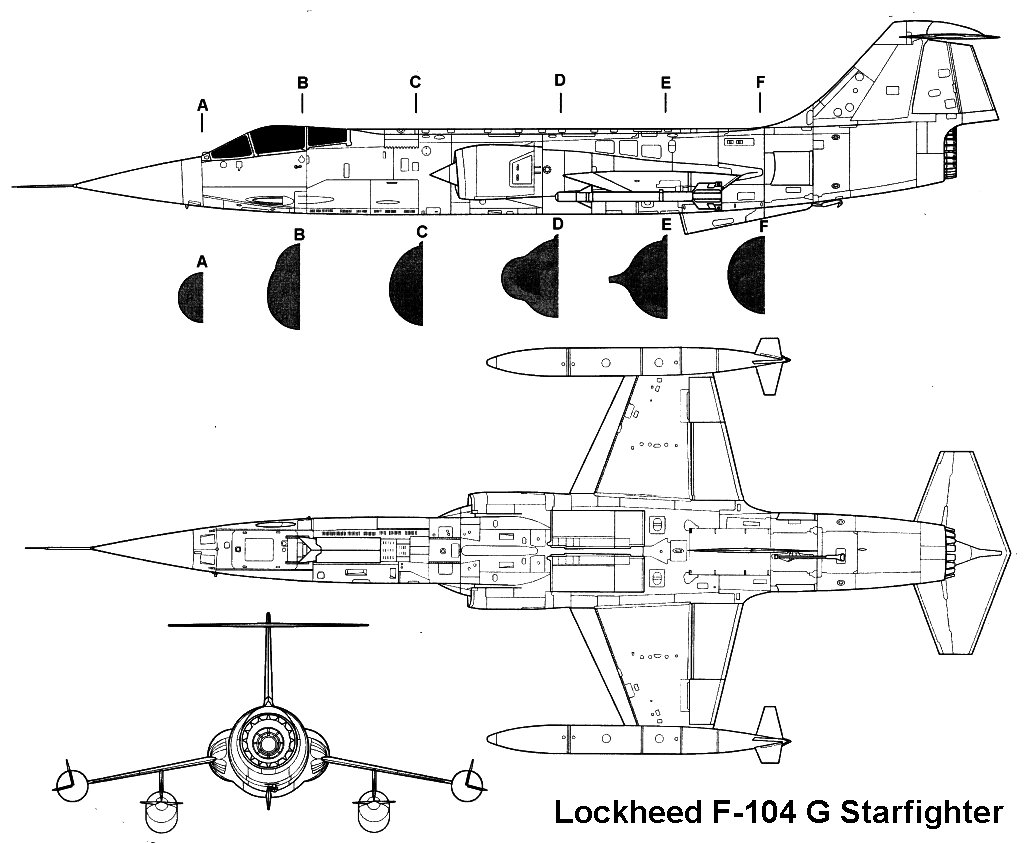 RF-104G
A tactical reconnaissance version based on F-104G. In the beginning, three KS-67A cameras were mounted in the forward fuselage in place of a cannon. Conversions were also done such as on the Dutch RF-104G. Later the installed cameras were removed and a recon Old Delft Orpheus pod was hung under the central fuselage of RF-104G Dutch AF Starfighters.
TF-104G
This is trainer version of F-104G with no cannon nor a centreline pylon. Some aircraft were also used by the Royal Netherlands Air Force.
F-104J
Japanese version of the F-104G, license made by Mitsubishi for the JASDF. It could be armed with four Sidewinders and had the M61 canon.
CF-104
This was Canadian version made under license by Canadair, as well as the engine being the J79-OEL-7. Was to be used as "nuclear" bomber under supervision of the USA (just like the CF-101 Voodoo's). First the canon was removed but later around 1972 installed again. About 200 built.
CF-104D
The dual-control trainer version of the CF-104.
F-104S
This was the last version, developed for Italy. It is an updated version of the F-104G but with significant additional changes made under license by Alitalia/ Fiat. Had much improved avionics and could fire AIM-7 Sparrow missiles. Also had a stronger J79-GE-19 engine with a "larger" exhaust nozzle and extra rectangular auxiliary air panels on the intakes. Two ventral fins were fitted extra below the rear fuselage as well and it got additional pylons. The initial F-104S had the canon removed, but this was re-installed. Later on, the F-104S-ASA type could fire AIM-9L Sidewinders and Selenia Aspide missiles, mostly seen on outboard wing pylons. Antenna's and ECM are set at slightly different locations around the airframe.
There is an infra red seeker at the base of the windshield.
Much information about the F-104 can be found on many websites...