Westland Lynx
RNethNavy (MLD)
last update June 30, 2002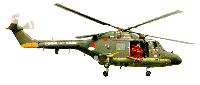 Pictures of the "real thing"
Westland Lynx twin engined Utility and ASW shipboard helicopter. Most pictures here of Dutch navy Lynx, which ordered 6 aircraft UH-14A Lynx Mk25 for SAR/liaison role. Order November 1974, delivered 14 November 1977-4 November 1977, serials 260 to 265.
New batch 10 aircraft SH-14B Lynx Mk27 for ASW role with French installed dipping sonar.
Order 1976, delivered to France 9 October 1978-12 November 1979 and to MLD 12 September 1979-1 September 1980, serials 266 to 275.
Other batch: 8 aircraft SH-14C Lynx Mk81 for ASW role with MAD gear. Order January 1978, delivered from 10 October 1980 to 9 April 1981, serials 276-283. The MAD gear was not a success.
All Lynxes used by 7 sqn and 860 sqn.
All 22 remaining UH-14A and SH-14 upgraded to common SH-14D standard 1990-1993. New systems were installed.
Also new composite main rotor blades BLRP and at the same time the tail horizontal stabilizer was reduced in span and at its trailing edge a curved "Gurney" flap was fixed.
Photo's (c) Meindert de Vreeze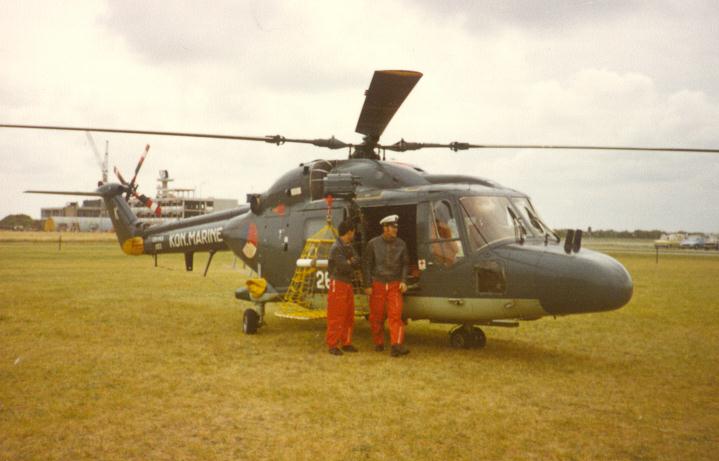 Lynx with older rotor blades (no BLURP tips)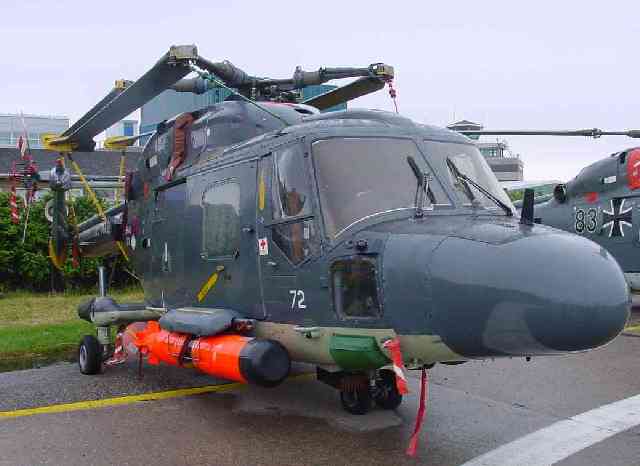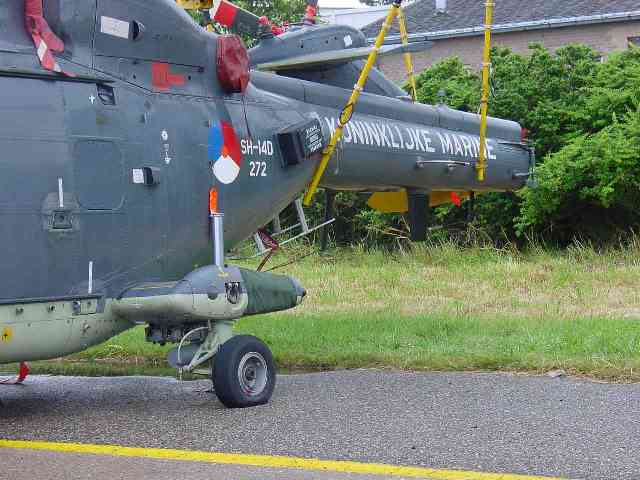 ..
.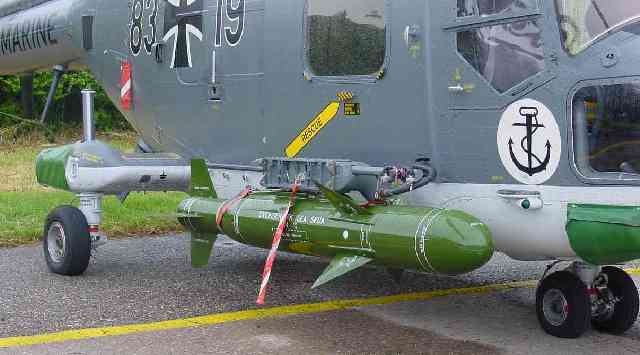 German Lynx
note chaff dispenser near tailboom
forward flotation gear (green bag), fitted later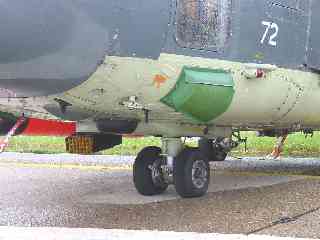 ..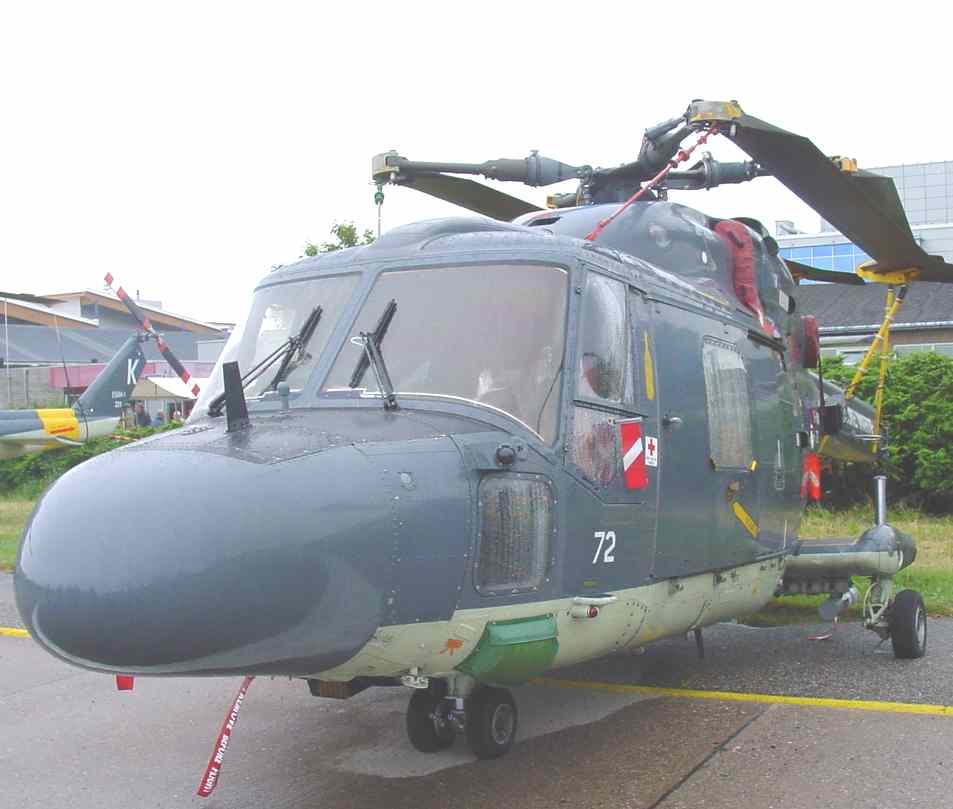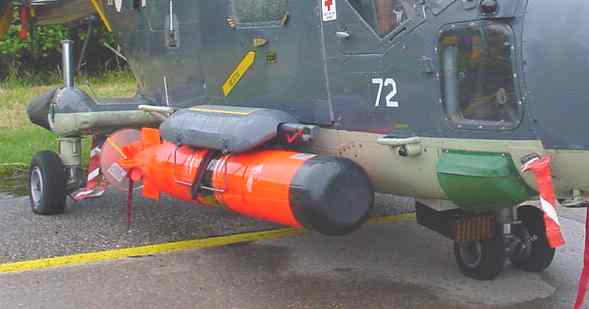 ..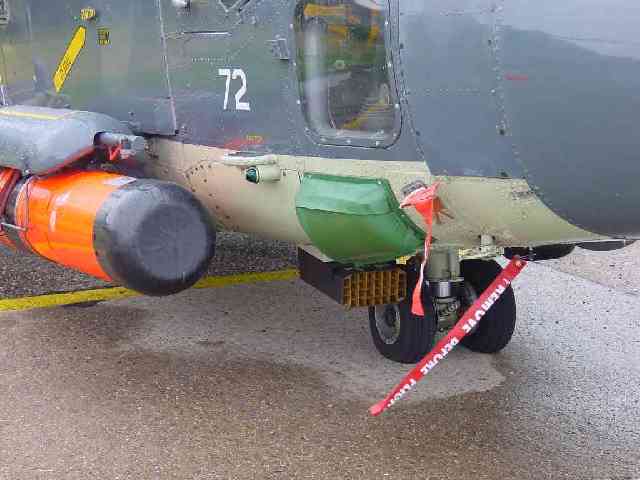 ..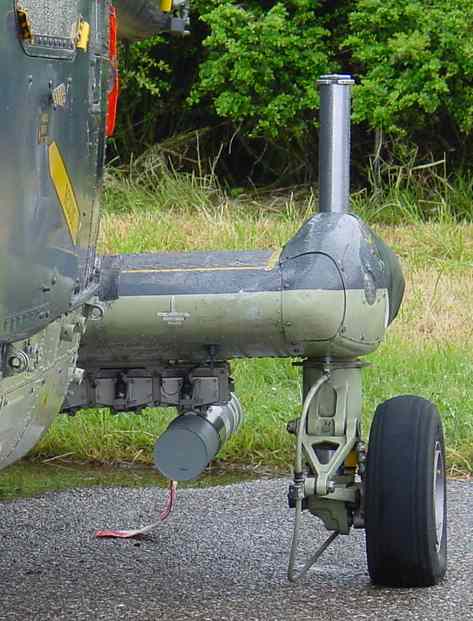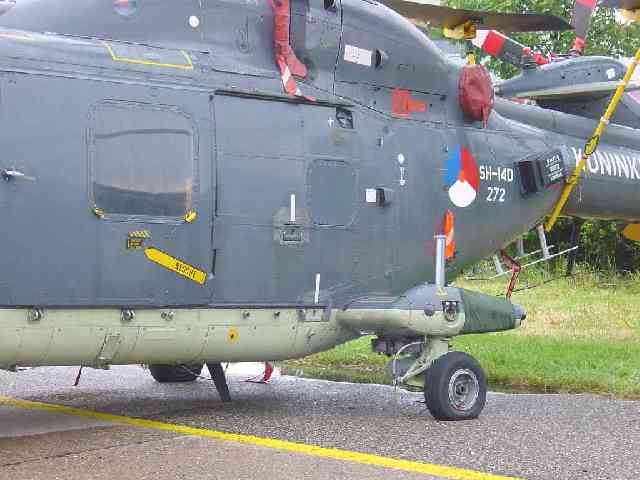 ....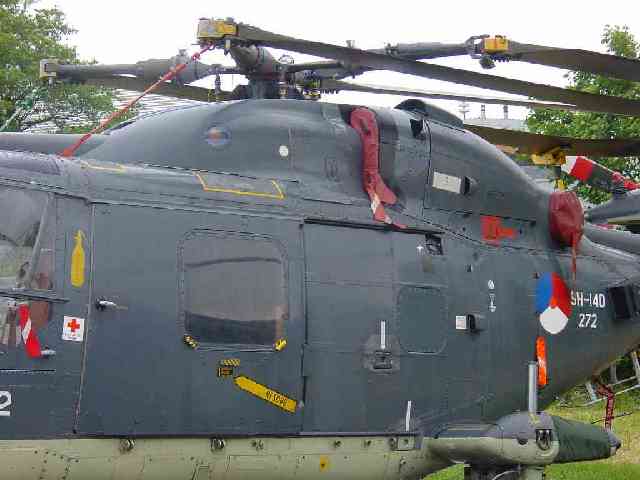 folded rotor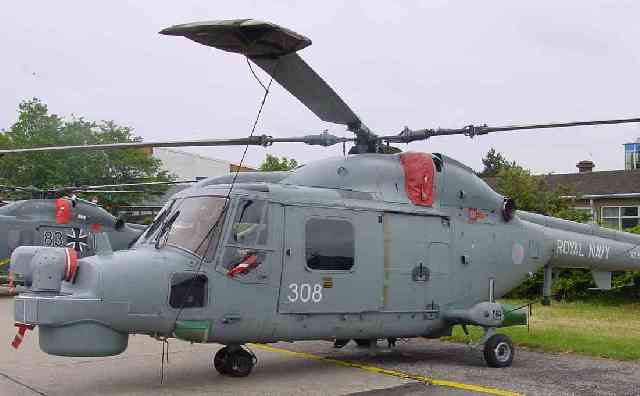 British Lynx with radar pod under the nose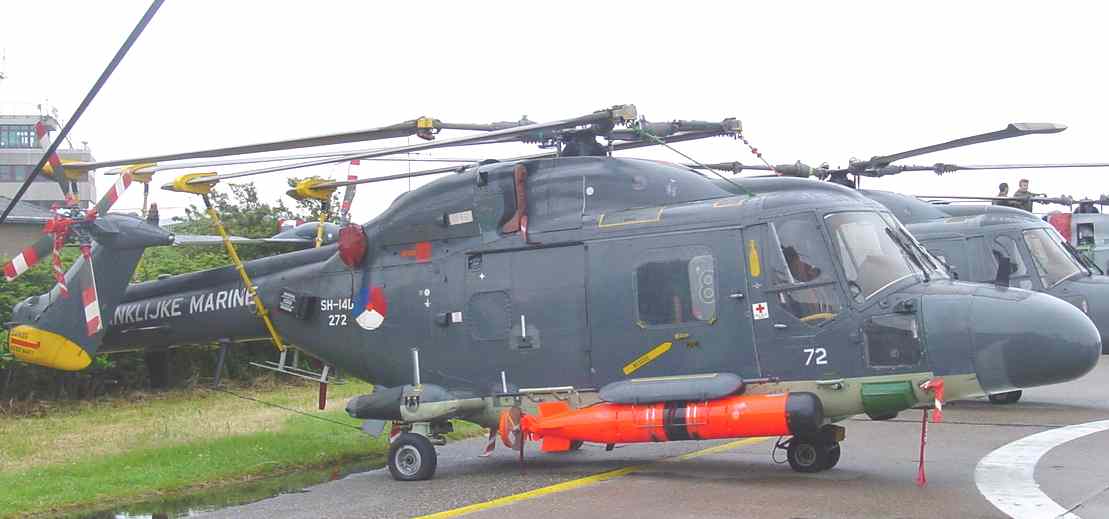 .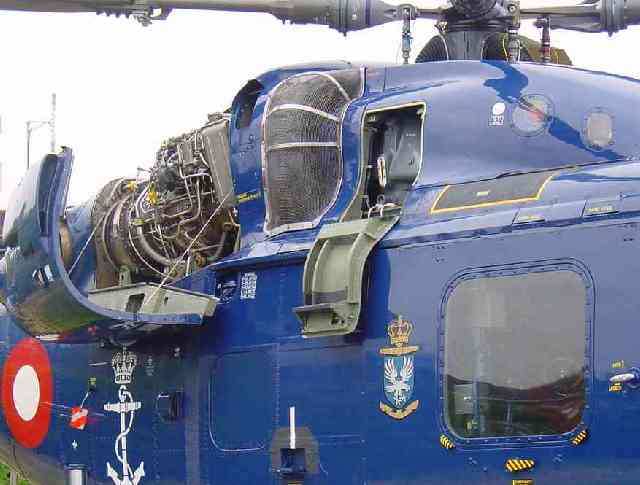 Danish Navy Lynx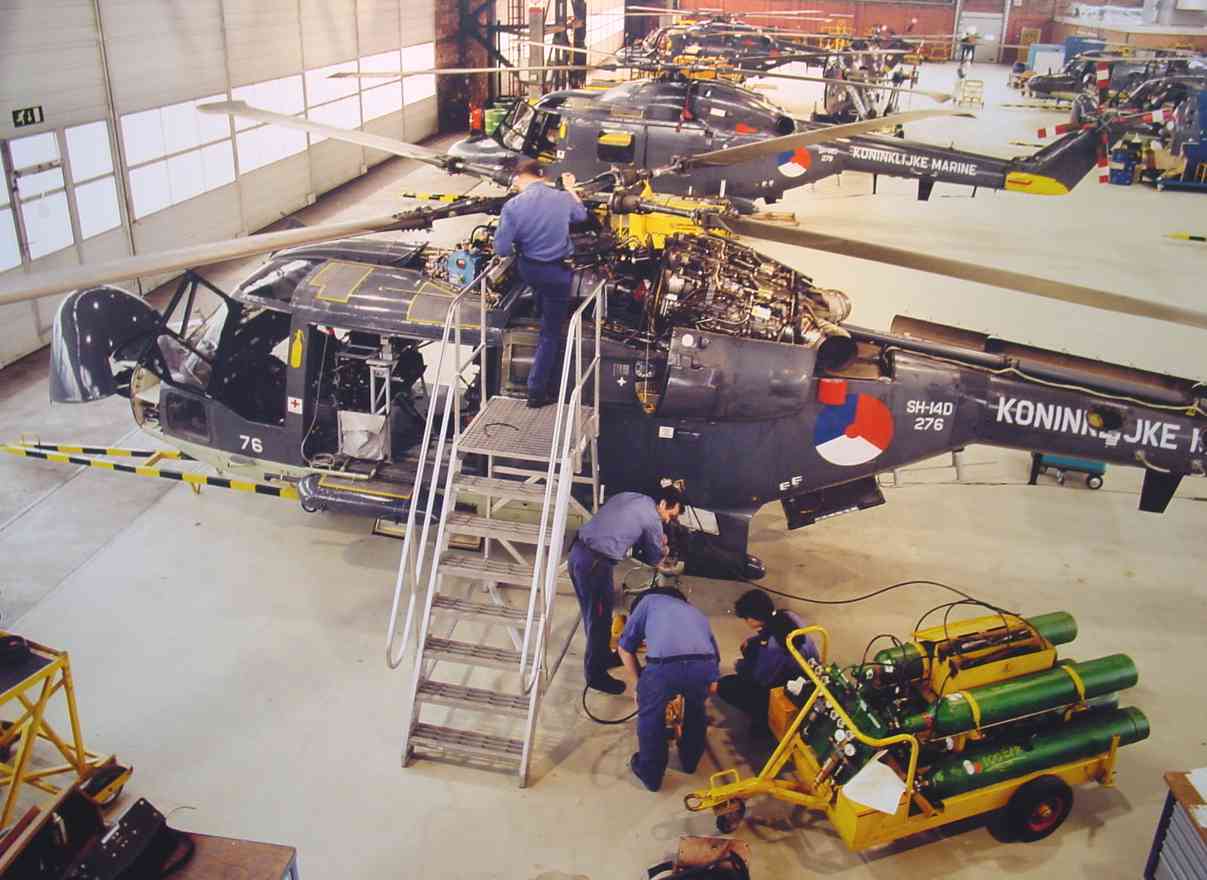 maintenance in the hangar (courtesy picture Audio Visuele Dienst MLD)
---
| | |
| --- | --- |
| | All information is provided "as is" and in good faith. Links and information to other sites courtesy the relevant authors. Links to this site can be made without reservation, however all real aircraft pictures material copyright by Meindert "Designer". Material may not be copied without mentioning the source! |
(c) Copyright "designer"/ All rights reserved/ Amsterdam The Netherlands.