Another Eduard kit #7418 for a L-39C was made in a scheme of the Hungary air force.

I had from a KoPro kit #73159 (which is the old KP kit) very nice decals for a L-39ZO of the Hungarian Air Force for 2 nice schemes. It was decided to put these decals on this Eduard kit.
Scheme B was used: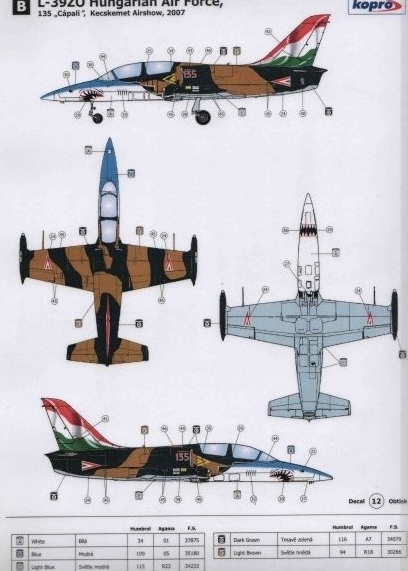 and scheme A is also shown here...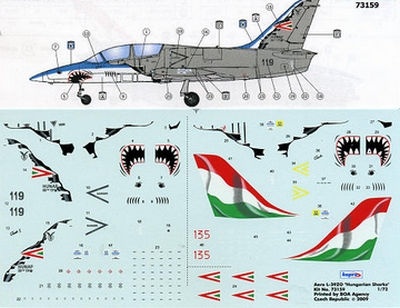 The scheme B is for a L-39ZO coded "135" Capali as seen at the Kecskemet air show in 2007. It required masking of several colours. I made a paper copy of the decal sheet and used this as pattern for masking. This is important to avoid a sort of over flow as the decals should conform to the camouflage pattern outlines.
Colours airbrushed were acrylics:
white, using Revell Aqua 04 "weiss" (nose and also on the vertical tail)
lower areas: AKAN 73008 blue;
green: FS34079 using Gunze Sangyo 309;
dark earth: Revell Aqua 82;
The blue pattern on the upper nose was airbrushed with Gunze Sangyo H25 blue. It is not solid but blends into the lower white fuselage. The various smaller anti-glare panels were airbrushed matt black.
The decals themselves are very thin, so take care here. The nose shark teeth decal was cut in half and trimmed to fit better. The tail edges were also painted red to match the decals.
The cockpit got PAVLA resin seats and some other details made from scrap as the canopies were set open.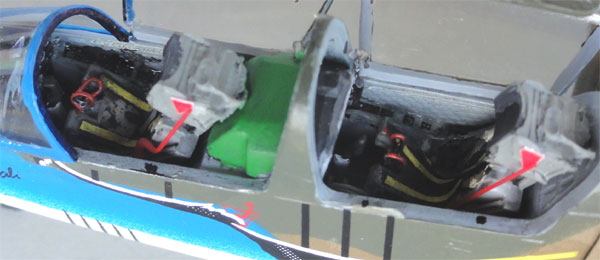 The model was finished with various details as well as described for the models above.
Hunga'y's borders were first established after the end of World War I in 1920, before that it was in the Austro-Hungarian Empire. After the Second World War, it became part of the Communist Eastern Block with armed forces through the Warsaw Pact. Large numbers of Soviet aircraft were used by the air force.
After the collapse of the Soviet block in 1989, several Eastern Europe countries gained real independence. Hungary is now a NATO member. The Hungarian Air Force ("Magyar Légiero") is a relatively small air force with the newest JAS-39 Gripens (with some 16 Gripens "leased" that replaced the MiG-29). Some utility and transport aircraft are also used as well as various helicopters. Main bases are at Kecskemet, Szolnok and Papa (where also a small NATO transport detachment with Boeing C-17 is stationed).
..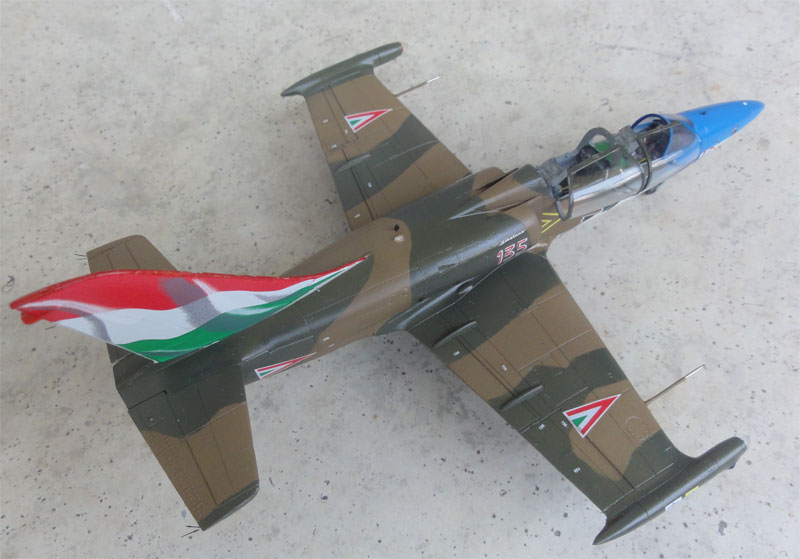 ..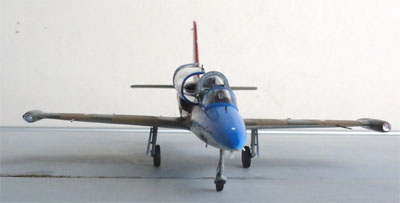 ..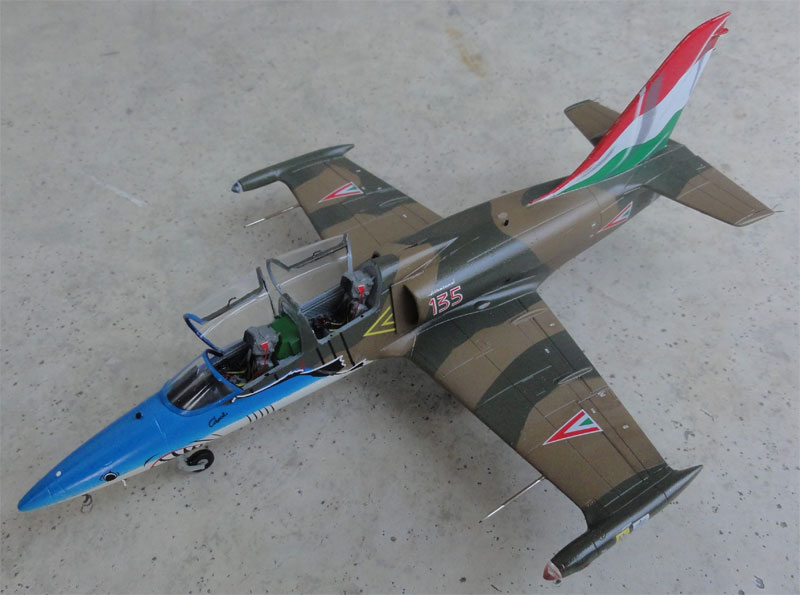 ..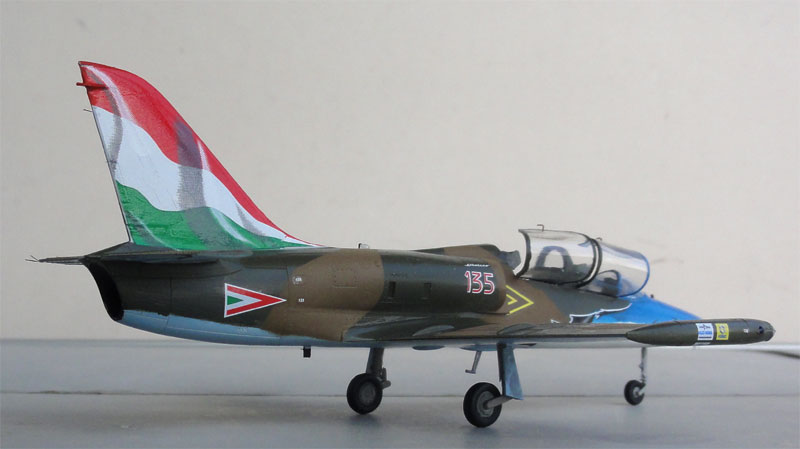 ..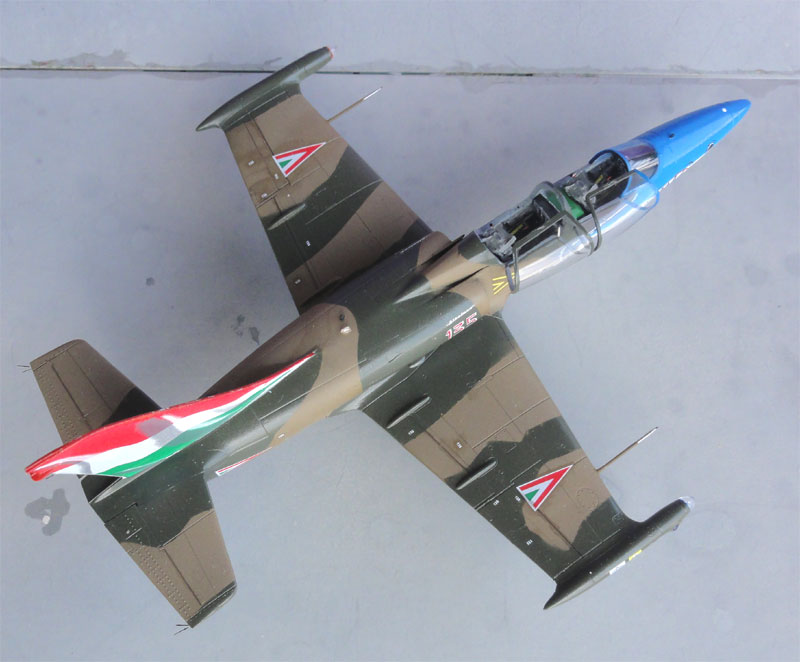 ..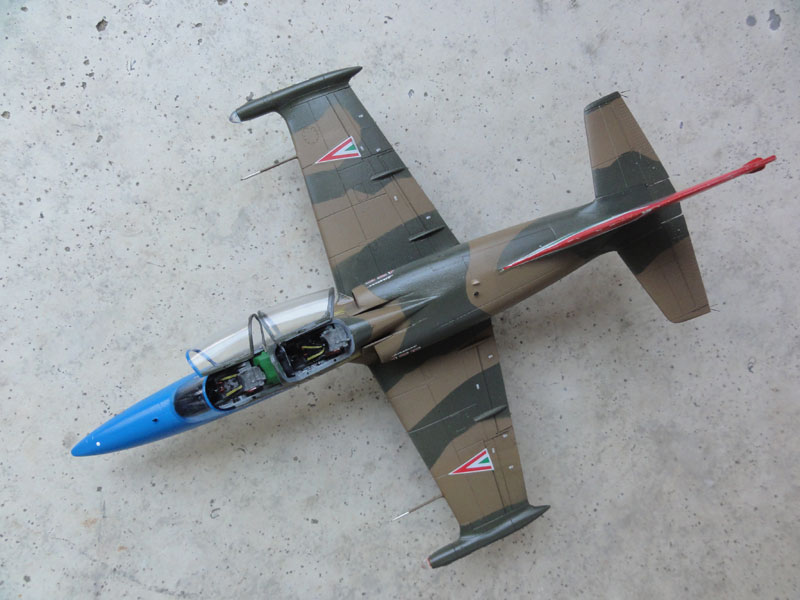 Aero L-39ZO of the Hungarian Air Force ("Magyar Légiero").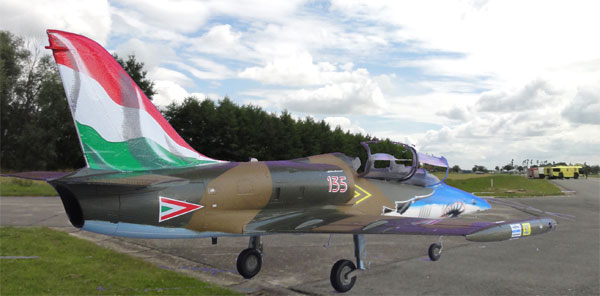 ..
A nice number of Aero L-39 Albatros models is now in the World Air Forces collection....