The SEPECAT Jaguar was designed as a close air support aircraft and later also for the nuclear strike role. It developed in a joint venture by British Aircraft Corporation and the French Breguet (later Dassault) company in the SEPECAT joint venture in the sixties. Many other British and French aircraft companies participated as well in the program. The Royal Air Force and French Armee de l'Air were the principal requirements drivers. The RAF needed replacements for the Hunters and Phantoms in the strike role and the French also had a gap for such an aircraft. Also, there was a need for a "navalised" Jaguar for use from French aircraft carriers.

The aircraft was a single seater but also a twin trainer version was developed. The first Jaguar prototype flight was in 1978. In 1970 the RAF indicated to require about 200 aircraft. The French navalised version was the Jaguar "M" and it had a strengthened airframe, an arrestor hook and different undercarriage: twin nosewheel and single mainwheels. It was tested also on the French carrier Clemenceau. Costs for this version were high and this variant was cancelled in 1973. The French retained their other need for land based Jaguars for the Armee de l 'Air.

Meanwhile, development of the normal "land based" Jaguar variants continued. Normally, the Jaguar could be fitted with various stores like bombs, rocket pods, missiles and als it had 2 canons: French DEFA cannons, or British Aden cannons. It had Rolls-Royce Turbomeca Adour turbofan engines, also jointly developed. It could operate from short runways.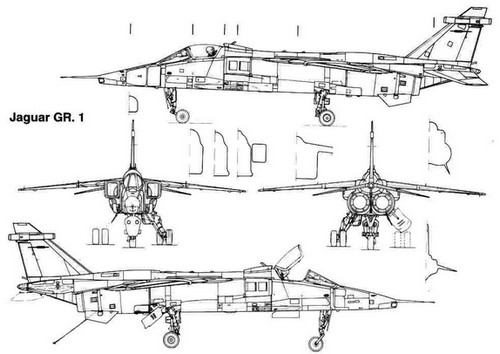 The French put into service in the mid seventies about 160 single-seat Jaguar "A" and 40 of the two-seat Jaguar "E". It was a good aircraft and used a lot, also in overseas operations in Africa and the Middle East.
The RAF started using Jaguars in the seventies, with 165 single-seat Jaguar GR1 and 35 two-seat trainers, the Jaguar T2 (previously Jaguar B). Systems differed from the French aircraft. The RAF Jaguar also had a tactical nuclear strike role, carrying the WE.177 bomb. In the UK, they flew from airfield like Coltishall, Lossiemouth, and in RAF Germany at RAF Bruggen, Laarbruch. Updates and system changes were executed throughout the militairy service. The RAF also used the Jaguar overseas in conflict like the 1991 Gulf War, Desert Shield and Bosnia.
For export, many other countries showed interest in the Jaguar. An "international" Jaguar was developed that had some differences in equipment. It could even carry upper wing air-to-air missile pylons.
India became a large Jaguar user in the eighties with over 200 aircraft, many built under license by Hindustan Aeronautics Limited (HAL) calling the Jaguar IS, IM and IB and called the "Shamsher". Jaguars were also exported to countries like Ecuador (12 ES and EB aircraft), Nigeria (18 SN / BN) and Oman (12 SO and BO) in seventies and eighties.
Versions:
Jaguar A: French version of a single-seat all-weather tactical strike, ground-attack fighter; two prototypes and 160 production aircraft built.
Jaguar E: two-seat training version for the French Air Force, two prototypes and 40 production aircraft built.
Jaguar M: a single-seat naval strike prototype for the French Navy, one built. Order cancelled.
Jaguar B / Jaguar T2: two-seat training version for the Royal Air Force with Secondary strike role; about 35 aircraft made.
Jaguar S / Jaguar GR1: RAF single-seat all-weather tactical strike, ground-attack fighter, 165 built. The GR1A was an update with chaff/flare, ECM and Sidewinder capability, 75 conversions from GR1. The GR3 was a later GR1 update.
Jaguar International was for export (ES / EB/ SN/ BN / SO / BO). A special was for India the IM, a single-seat maritime anti-shipping aircraft that could fire the Sea Eagle anti-ship missile, of which 12 were built by HAL.