Two Agusta Bell 412SP helicopters are currently operated by the Dutch AF in the search and rescue role from Leeuwarden AB.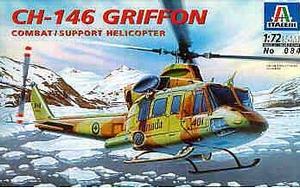 The kit is from Italeri in 1/72 scale, kit no. 084, Bell 412 / CH-146 Griffon;
The kit is quite good a a lot of parts needed for the Dutch version are there including the decals!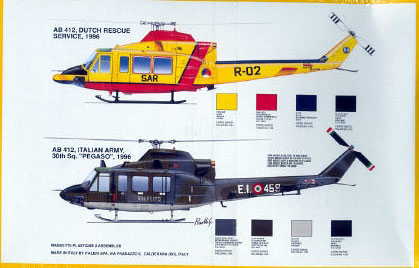 NOTE: the kits was also issued by Revell 04461: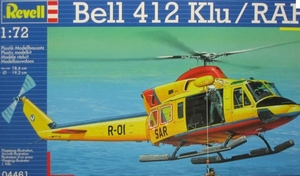 1- First, the cabin windows framing in parts 27/28C should be a bit finer. The cabin window 85C should in fact be a blown shape. I simple added some thin transparent plastic.
2- cut out the winch hole in the lower fuselage straight below the rotor mast, which is present in every Huey.
3- Parts 81/822b, 89B, 41a are not needed.
4- You can add a search light yourself as well as some other skids that were used on the first months of operation. I added the special skids with the flotation gear .
This was made out of ordinary sprue!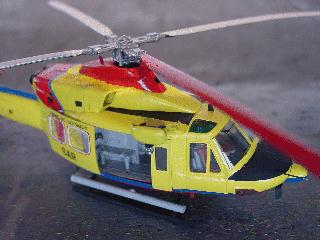 .
The interior has a light grey finish. Upper colour is yellow RAL 1023, for which I used Revell 12. Lower colour is orange RAL 3020. The blue bands are RAL 5017. They are difficult to get onto the model, the scheme is quite complex for such a small kit. Note also that one blade has a red colour.
The lower fuselage has some "chevron type" high visibility striping! Add walkways and the tail rotor striping is white-black (not red). Also, you will need to add two missing small roundels on the upper and lower fuselage.