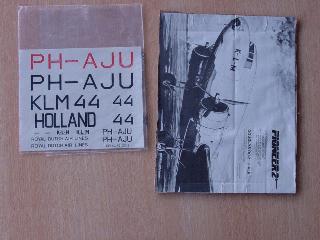 .
Pioneer kit decals + box

The Italeri kit of the DC-3 Dakota is quite good. First I thought to convert the DC-3 3-abreast fuselage to a DC-2 2-abreast one. I removed strips of plastic in the fuselage's top and bottom areas as can be seen here. However, the DC-2 has straight fuselage sides and I could not really achieve a good look despite sanding it flat. So it was a failure, so I set out another course...

The DC-2 kit of Pioneer that I purchased years ago is very crude, especially in the engine and wing area. The fuselage can be used however and is the most important difference between the Dc-2 and the later Dc-3.

The following "cross kitting" was done:
- 0 - some major surgery was applied, using a fine razor saw...
- 1- the vertical fin of the Pioneer kits' fuselage was cut off. I replaced it with a narrower chord converted Italeri DC-3 fin.
- 2- the central wing section was used of the Pioneer kit but the center wing part reduced in span to dispose of the crude nacelle stubs.
- 3- parts of the Italeri DC-3 inner wing section were to be used and adapted in order to fit the central Pioneer kit's wing section. I had to glue a piece of plastic card also on the lower wing below the fuselage to get a good result.
- 4- of the outboard DC-3 wing, the tips were shortened to represent the smaller span DC-2 wing.
- 5- the engine cowlings of the DC-3 were shortened about 5 mm and you will have to add scopes and intakes also typical of the DC-2
- 6- the engines were converted to 9 cylinder examples; cut off the 2x2 rows of the Italeri kit engine 7 cylinders and make 2 sets of nine cylinder single row ones.
- 7- the DC-2 fuselage remains solid as the Pioneer kit part is solid; I will used dark paint and decals later on for the windows.
- 8- the horizontal stabilizers of the DC-3 are used, but I removed some chord at the trailing edge.
- 9- more details to be fitted later on.

DC-2 model will be finished in a KLM scheme later on, using Dutch decal set 72-15.


nacelles, still not yet sanded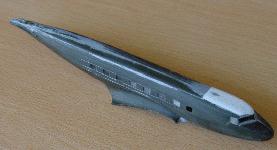 the "not used conversion of the DC-3 fuselage"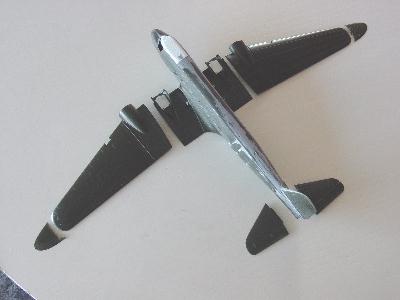 the failure on the Italeri converted fuselage...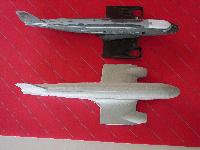 the not used DC-3 kit parts on top and the Pioneer kit parts below



Pioneer dc-2 "solid" fuselage, fin still to be cut off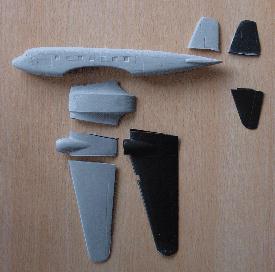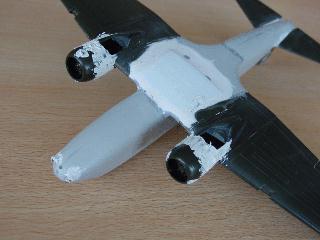 thick piece of card lower fuselage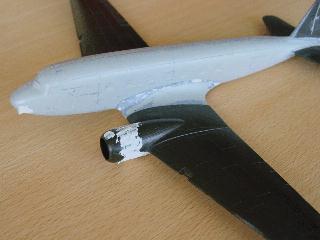 the combination of the Pioneer kit fuselage and central wing section + converted Italeri DC-3 outboard wings and flying surfaces